Apex Recovery is proud to provide drug and alcohol outpatient rehab programs in San Diego. Our outpatient program is based on the same integrative model that we offer clients in our other rehab programs.
Do I Need an Outpatient Rehab Program?
Do you need an outpatient rehab program for addiction? It depends on the severity of your addiction and what kind of treatment plan is best suited to your individual needs. Outpatient rehab programs are designed to provide a comprehensive range of services in a more flexible format than residential rehab programs, allowing individuals to continue living at home while receiving treatment. These types of programs can be beneficial for those who have milder addictions, as well as those with moderate or severe addictions who do not require 24/7 care.
Some of the advantages of an outpatient rehab program include, but are not limited to, the following:
Flexible format allows individuals to continue living at home while receiving treatment
Generally more effective than residential rehab programs
Allows for continued engagement with family and friends who can provide support and understanding during recovery
Gradual, step-by-step approach that allows individuals to gradually develop healthier coping skills and lifestyle habits as they work through their addiction
Can be tailored to individual needs depending on the severity of addiction, allowing flexibility in terms of frequency and intensity of sessions
Provides 24/7 access to resources such as counselors, therapists, or doctors should any issues arise outside of session times
If you or someone close to you is experiencing addiction and might benefit from this level of care, reach out to Apex Recovery San Diego at 619.458.3435 today.
About Apex Recovery's San Diego Outpatient Rehab Program
Apex Recovery San Diego is proud to provide outpatient treatment programs to ensure long-term recovery. Our outpatient care treatment program is based on the integrative model that we offer clients who participate in our inpatient treatment program.
Our outpatient rehab program includes:
Daily group therapy
Individual psychotherapy
Drug and alcohol counseling
Psychiatry or addiction medicine services
Apex Recovery's outpatient addiction treatment program hand-tailors each treatment plan to the individual in our outpatient programs. Treatment coordination and assistance with skill building, referrals for educational and occupational services, and continued sober living housing are major parts of our all-inclusive program. We know that someone who is in recovery needs constant support because every day is a battle, especially in the beginning. Having someone for guidance in common life problems and challenges has a huge impact on the positive outcome of the recovery process.
Our outpatient rehab program covers substance and behavioral addictions, including:
Alcohol
Prescription drugs
Cocaine
Methamphetamines
Heroin
Sex
Gambling
As well as mental health difficulties, including:
Depression
Anxiety
Trauma
OCD
Self-esteem issues
Relationship issues
LGBTQ+-related issues
How We Deliver Excellent Rehabilitation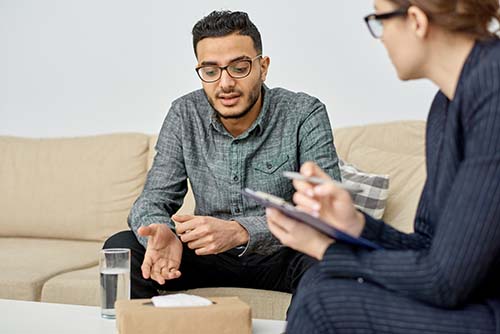 We utilize cognitive-behavioral therapy (CBT), dialectical behavior therapy (DBT), motivational interviewing, coping skills training, and a variety of other didactic and process therapies to help individuals who have already finished a formal inpatient rehabilitation program or residential treatment rehab program, are currently sober, and need the continuation of outpatient care.
Each participant is provided the continued clinical outpatient services, care, and support that is recommended for after-care. We provide core programming daily with our outpatient therapists and intensive outpatient treatment programs. Our addiction physician consultant oversees maintenance drugs that are sometimes prescribed for those in recovery—these meds can be a tremendous help in reducing cravings, but it is vital that they are under the strict control of a medical professional. Our goal is to help individuals move through the stages of change and move from early recovery into the long-term recovery of living a more productive life while adhering to personal goals and needs in the recovery process.
Learn More About Our Outpatient Addiction Treatment Programs in San Diego
Apex Recovery San Diego is waiting for your call now. We are here to assist you through this difficult process. Even if Apex Recovery is not the right resource for you, our staff is highly connected and will work to find you the help you need. Apex Recovery San Diego is available to call 24 hours a day. You can also send us a confidential email at any time, and we will work to get in touch with you quickly. Call us at
619.458.3435
. We are here to serve you.